International Seminar "Climate Change & Water"
Posted by

Categories

Latest News

Date

November 15, 2020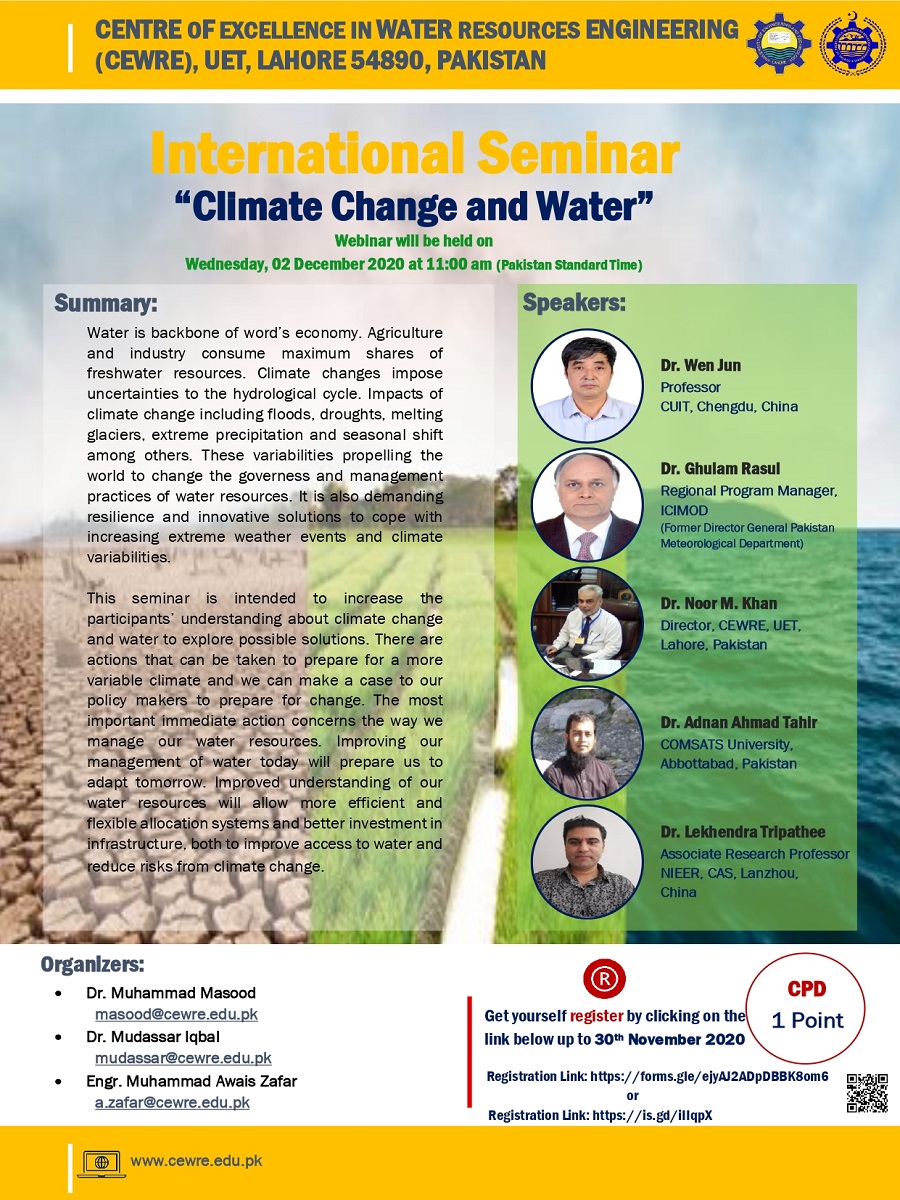 This Seminar is Conducted Successfully!
---
Registration Process (Now Closed!)
Registration is free and compulsory for participation. Please click on one of the link below and get registered by fill the online Registration Form:
OR
Webinar Date: 02 December, 2020 (Wednesday)
Webinar Time: 11:00 A.M. (PST)
Seminar Theme
Water is backbone of word's economy. Agriculture and industry consume maximum shares of freshwater resources. Water represent most complex and challenging risk to mankind couple with rapid urbanization, rising demand for food and energy. Climate changes impose uncertainties to the hydrological cycle that requires innovative ideas, techniques, and technologies to anticipate and thrive. Impacts of climate change including floods, droughts, melting glaciers, altering precipitation intensity and sessional shift among others, is demanding resilience and solutions to cope with increasing extreme weather events and climate variabilities. Reducing predictability of water availability is putting pressure on the water storage, water supplies, infrastructures, and sustainable development. These variabilities propelling the world to change the governess and management practices of water resources.
This seminar is intended to increase the participants' understanding about climate change and water to explore possible solutions. There are actions that can be taken to prepare for a more variable climate and we can make a case to our policy makers to prepare for change. The most important immediate action concerns the way we manage our water resources. Improving our management of water today will prepare us to adapt tomorrow. Improved understanding of our water resources will allow more efficient and flexible allocation systems and better investment in infrastructure, both to improve access to water and reduce risks from climate change.
Speakers
Dr. Wen Jun
Professor
CUIT, Chengdu, China
Dr. Ghulam Rasul
Regional Program Manager, ICIMOD
(Former Director General Pakistan Meteorological Department)
Dr. Noor M. Khan
Director
CEWRE, UET, Lahore,
Pakistan
Dr. Adnan Ahmad Tahir
COMSATS, Abbottabad,
Pakistan
Dr. Lekhendra Tripathee
Associate Research Professor
NIEER, CAS, Lanzhou,
China
Organizers
Dr. Muhammad Masood
Assistant Professor
masood@cewre.edu.pk
Dr. Mudassar Iqbal
Lecturer
mudassar@cewre.edu.pk
Engr. Muhammad Awais Zafar
Lecturer
a.zafar@cewre.edu.pk