Online Workshop on River Modeling using HEC-RAS 1D, 2D Features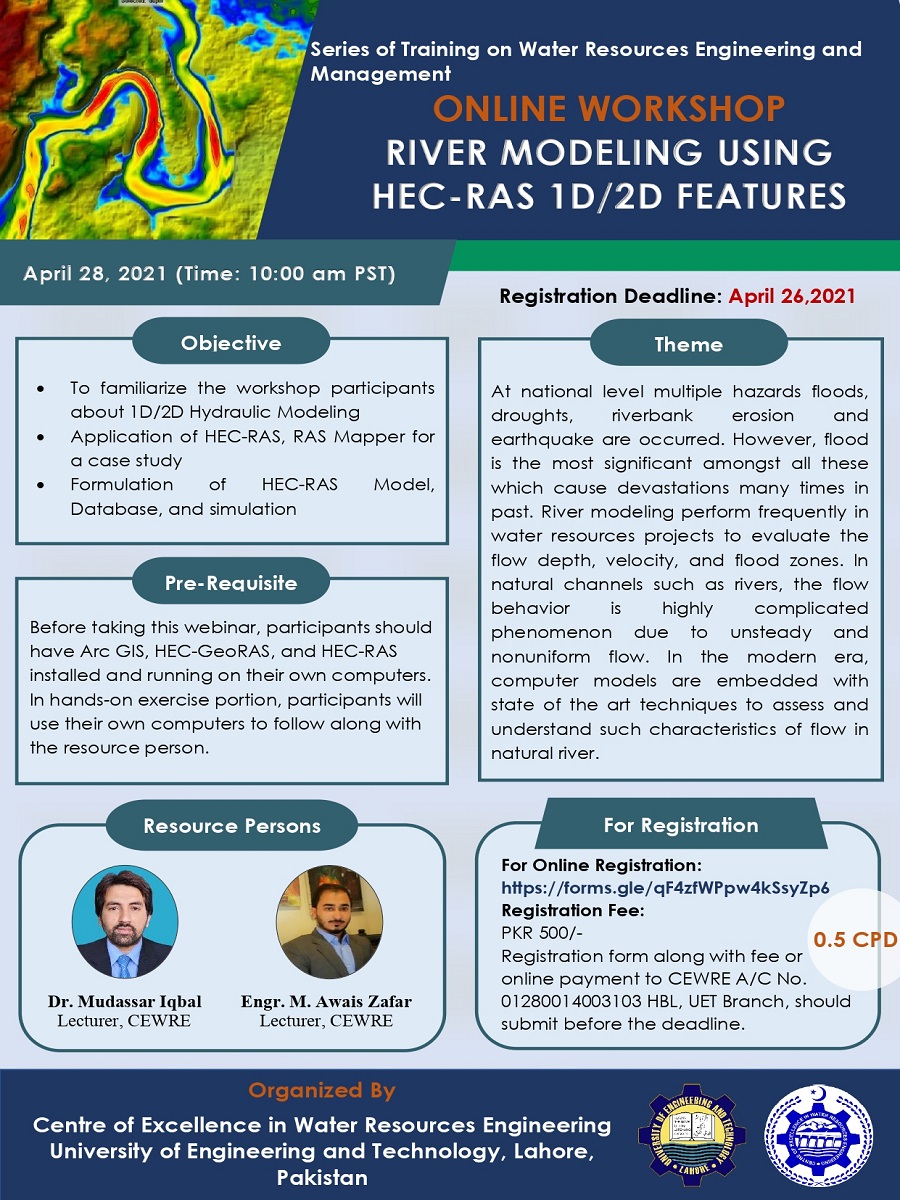 This Workshop has Conducted Successfully!
---
Registration Process (Now Closed!)
Registration is paid and compulsory for participation. Please click on the link and get registered by fill the online Google Registration Form. Registration form along with fee or online payment to CEWRE A/C No. 01280014003103 HBL, UET Branch, should submit before the deadline.
LINK FOR REGISTRATION (Click Here)
Registration Fee:
PKR 500/-
Registration Deadline:
26 April, 2021 (Wednesday)
Webinar Date: 28 April, 2021 (Wednesday)
Webinar Time: 10:00 A.M. (PST)
Workshop Theme
At national level multiple hazards floods, droughts, riverbank erosion and earthquake are occurred. However, flood is the most significant amongst all these which cause devastations many times in past. River modeling perform frequently in water resources projects to evaluate the flow depth, velocity, and flood zones. In natural channels such as rivers, the flow behavior is highly complicated phenomenon due to unsteady and nonuniform flow. In the modern era, computer models are embedded with state of the art techniques to assess and understand such characteristics of flow in natural river.
Objective
To familiarize the workshop participants about 1D/2D Hydraulic Modeling
Application of HEC-RAS, RAS Mapper for a case study
Formulation of HEC-RAS Model, Database, and simulation
Pre-Requisite
Before taking this webinar, participants should have Arc GIS, HEC-GeoRAS, and HEC-RAS installed and running on their own computers. In hands-on exercise portion, participants will use their own computers to follow along with the resource person
Resource Persons
Dr. Mudassar Iqbal
Lecturer
mudassar@cewre.edu.pk
Engr. Muhammad Awais Zafar
Lecturer
a.zafar@cewre.edu.pk