This laboratory is equipped with TV. Bore Hole Camera, Current Meters, Survey and Leveling Instruments, Depth Recorders, Water Level Recorders, Earth Resistivity Meters, and instruments for evaporation studies. This laboratory provides facilities for resistivity surveys, hydrometeorology studies, detecting faults in tubewell bore holes, measuring discharge of the distributaries and canals, measurements of the depth of rivers and lakes.
Water Level Statistics at UET Lahore (2019-22)
Lahore-capital of Punjab Province is totally dependent on groundwater reserves for its domestic and industrial uses. High abstraction rates in Lahore has declined its water table and is continuously declining. Lahore Development Authority (LDA) in collaboration with UET Lahore had installed four recharging wells of large diameter in Junaid Jamshed Cricket Stadium of UET, Lahore. Piezometer having 150 feet depth and 2-inch diameter is installed to monitor groundwater behavior. Also, a recharging well is installed at Anexy ground. The graphs given below shows the temporal change in water level from mean average sea level (in meters) during 2019-22 at UET, Lahore.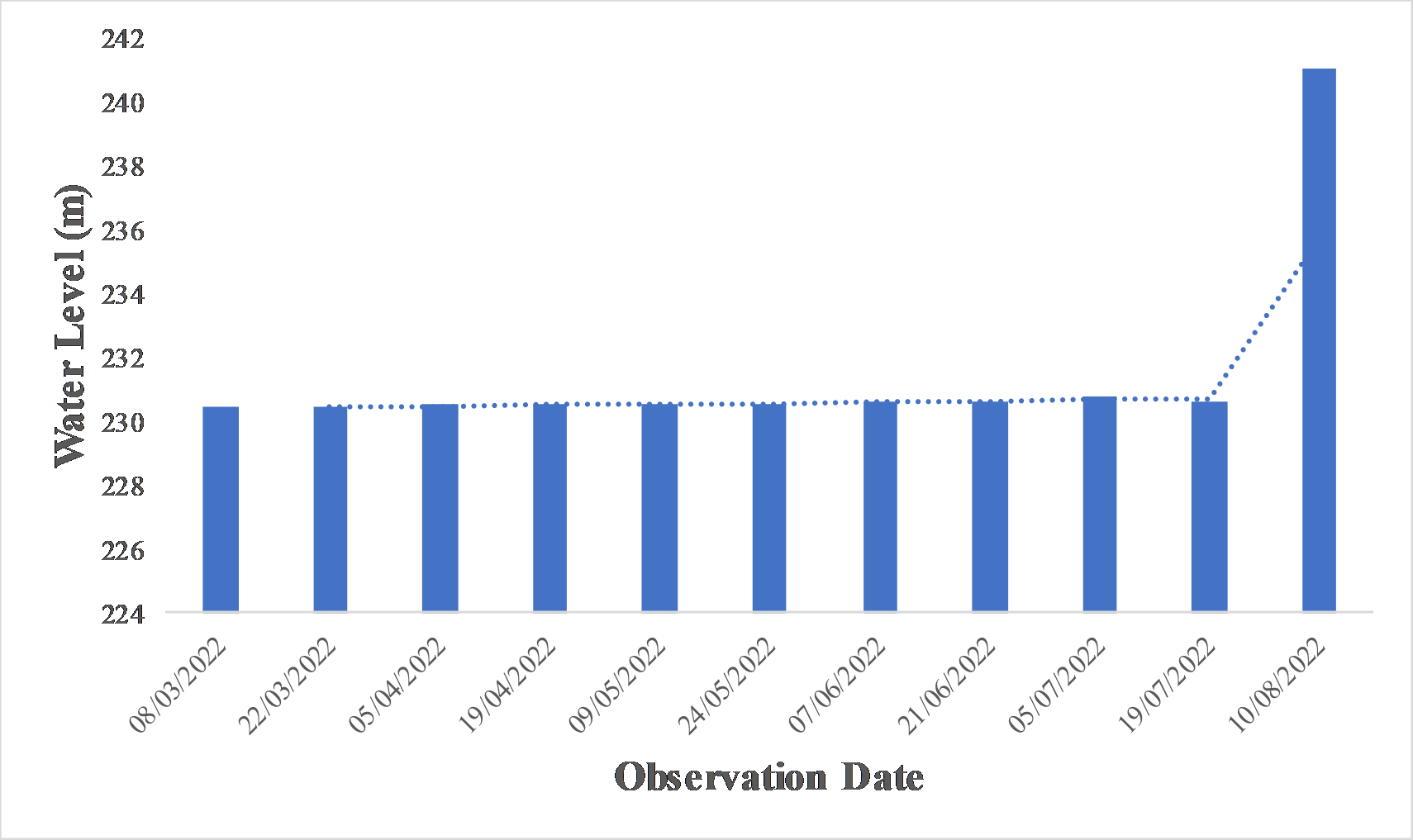 | Sr No. | Exp. No. | Experiment Title | Apparatus | Read | Download |
| --- | --- | --- | --- | --- | --- |
| 1. | 1 | To Understand Storm Hydrograph | Advanced Hydrological Apparatus | Read More | Download |
| 2. | 2 | To generate overland flow | Advanced Hydrological Apparatus | Read More | Download |
| 3. | 3 | To understand the initiation and characteristics of bedload motion | Advanced Hydrological Apparatus | Read More | Download |
| 4. | 4 | To understand the effect of changing stream power and channel morphology | Advanced Hydrological Apparatus | Read More | Download |
| 5. | 5 | To understand the effect of base level change | Advanced Hydrological Apparatus | Read More | Download |
| 6. | 6 | To understand the scour in open channel flow | Advanced Hydrological Apparatus | Read More | Download |
| 7. | 7 | To study the water abstraction from a well in a confined aquifer | Advanced Hydrological Apparatus | Read More | Download |
| 8. | 8 | To study the water abstraction from a well in an unconfined aquifer | Advanced Hydrological Apparatus | Read More | Download |
| 9. | 9 | To study the water abstraction from a number of neighbouring wells | Advanced Hydrological Apparatus | Read More | Download |
| 10. | 10 | To study the effect of rainfall on a circular island with a central well | Advanced Hydrological Apparatus | Read More | Download |
| 11. | 11 | To study the ground water flow between two canals with and without rainfall | Advanced Hydrological Apparatus | Read More | Download |
| 12. | – | Auto Level Experiments | Auto Level with Accessories | Read More | Download |
| 13. | – | Theodolite Experiments | Theodolite with Accessories | Read More | Download |
| 14. | – | Water Level Indicator | — | Read More | Download |
Lab In-Charge(s):
Dr. Ijaz Ahmad (Ph.D)
Tel: +92-42-99250257-58 Ext: 22
Fax: +92-42-99250259
Email: [email protected]
Engr. Faraz ul Haq (M.Sc.)
Tel: +92-42-99250257-58 Ext: 18
Fax: +92-42-99250259
Email: [email protected]
Current Research Student(s):
Abdul Raheem
Lab Attendant:
Manzoor Hussain