Assalam-o-Alaikum!
It is indeed an honor to welcome you to this newly inaugurated Website of Centre of Excellence in Water Resources Engineering (CEWRE), located at the University of Engineering and Technology, Lahore, Pakistan. The Centre is one of the top academic and Research Institutes in the field of Water Resources created by the act of Federal Government in 1976. Through its postgraduate academic programs in Water Resources Engineering, Water Resources Management, Hydrology, and Hydropower, the Centre has provided a highly skilled engineering force, playing a pivotal role in the development and management of Water Resources of Pakistan and the region. CEWRE has collaborated with National and International institutes to complete several research projects pertaining to challenges faced by the nation & region in fields of Irrigation, Agriculture, Climate Change, Water Resources Development, and Disaster Management (especially Droughts & Floods).
For the last forty years, Centre's faculty and staff have been instrumental by transferring knowledge to young professionals in the field of water resources engineering and management. Its alumni are working not only in Pakistan in the public and private sector but also in serving humanity in various countries such as Australia, Netherland, KSA, USA, etc.
Keeping in view the present-day challenges of water scarcity, and looming climate change, the Centre has made a five-year plan (2019-23) to enhance its research and teaching capabilities through the renovation of labs, induction of highly qualified faculty, and well-trained staff.
Currently, CEWRE has more than 150 enrolled students pursuing their masters and Ph.D. degrees, and carrying out Master and Ph.D. research using state of the art scientific knowledge, simulation and optimization tools, keeping in mind the needs of sustainable development.
Our last forty years were the development phase, I have a strong belief and urge that the next forty years will be the years of leadership. The Centre will lead the research and development in the field of water resources.
May ALLAH (S.W.T) Help Us.
Prof. Dr. Noor Muhammad Khan
Director
[email protected]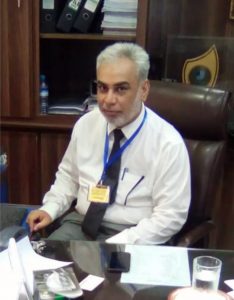 Prof. Dr. Noor Muhammad Khan