Laboratory and Research Facilities
The Centre has several well equipped laboratories including Hydraulics, Hydrology, Irrigation and Drainage, Soil & Water Analysis, Remote Sensing & GIS and Computer. There is a well equipped distance learning conference room. In addition there is a large Model Tray Hall having facilities for analysis of physical and scale models of river and other water resources engineering structures e.g., dams, spillways, tunnels, etc. Research facilities also include electronics, machine shop and drafting services. Field equipment is available for geo-physical investigations, flow and sedimentation measurements, infiltration tests, sprinkler and drip irrigations, soil moisture monitoring and hydro-meteorological observations.
Research Laboratories
The Centre has several laboratories, which are provided with advanced state-of-the art technical equipments to facilitates basic and applied research. Mechanical workshop is also available for the repair and fabrication of research apparatuses. A brief description of each research laboratory is given below.
Model Tray Hall
The Physical Modelling Facility in Centre of Excellence in Water Resources Engineering (CEWRE) exist since 1985. It is a valuable tool for exploration research in water resources. It has a Model Tray Hall of 9500 square feet to facilitates the indoor scale-down physical modelling equipped with current meters calibration apparatus setup. (Read More…)
Hydraulic Laboratory
This laboratory has experimental facilities for open channel flow, sediment transport, hydraulic machinery, flow measurements, hydraulic structures design and model studies. A current meter rating facility is also available to test and calibrate current meters.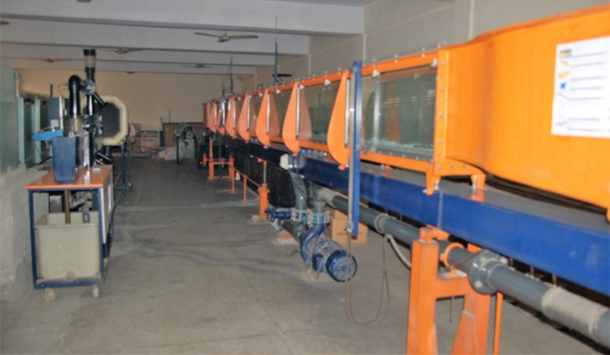 Irrigation and Drainage Laboratory
This laboratory has facilities for flow measurements, measurement of water course losses, infiltration test apparatus, field and laboratory permeability apparatus, sprinkler and drip irrigation systems testing, soil moisture monitoring and calibration of different flow measuring devices.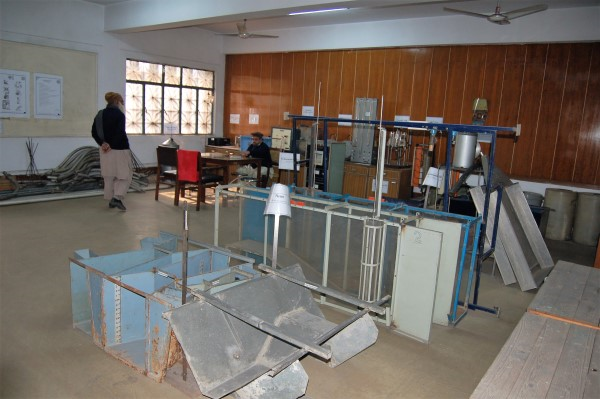 Soil and Water Quality Laboratory
This laboratory is well equipped with instruments used for physical and chemical analyses of soils, plant and waters including pH meters, electrical conductivity meters, textural analyses apparatus, UV spectro- photometer, flame photometer, atomic absorption spectrophotometer, temperature controlled water bath, centrifuge machine, Muffle furnace, soil moisture determination apparatus, various soil sampling kits and tools. The facilities for soil and water quality analysis for agriculture, soil reclamation macro and micro- nutrient status of soil, plant and water are also available.
Electrical Analogue and Remote Sensing Laboratory
This laboratory has facilities for conducting groundwater flow and seepage studies and flow to wells by analog modeling. Hardware and Softwares for the interpretation of aerial photographs and satellite imageries is available.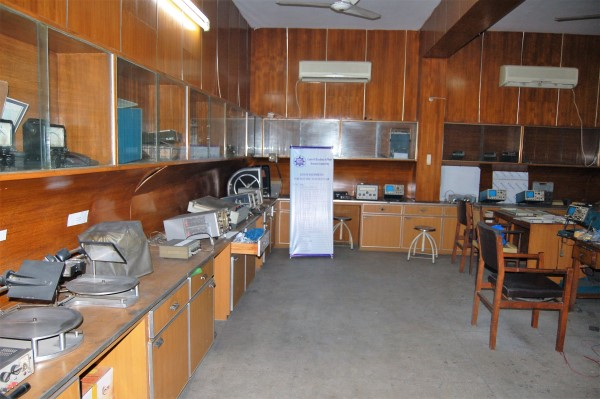 Hydrology Laboratory
This laboratory is equipped with TV. Bore Hole Camera, Current Meters, Survey and Leveling Instruments, Depth Recorders, Water Level Recorders, Earth Resistivity Meters, and instruments for evaporation studies. This laboratory provides facilities for resistivity surveys, hydrometeorology studies, detecting faults in tubewell bore holes, measuring discharge of the distributaries and canals, measurements of the depth of rivers and lakes.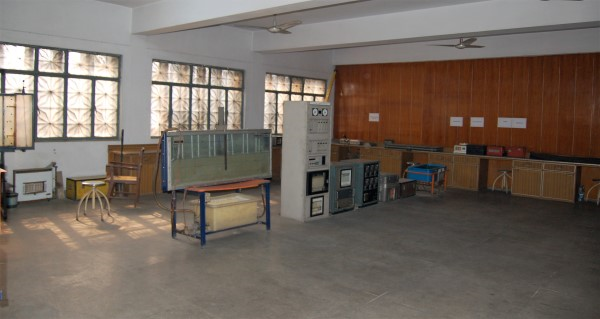 Computer Lab
The Centre has more than 30 personal computers (PC) for computational work, laser printers, color printers, scanners. The computer laboratory is open till mid-night. Free Internet service is also available. Various office and computational software for hydrologic, hydraulic/channel flow, ground water flow, solute transport, soil salinity, river system, catchment modeling, uplift pressure, flood flow routing, etc. are available for research. Computer languages programming facility available include FORTRAN, C++, Basic, etc. The students are encouraged to have an extensive one-term training on computer programming. Computers uses in their assignments, and design work besides in research studies involving numerical mathematics is common practice in the Centre.
A variety of software of special interest to students is available on each computer in this lab, including ArcGIS, HEC RAS, MOD Flow, SIC and other software running under the Windows XP and windows 7 operating system.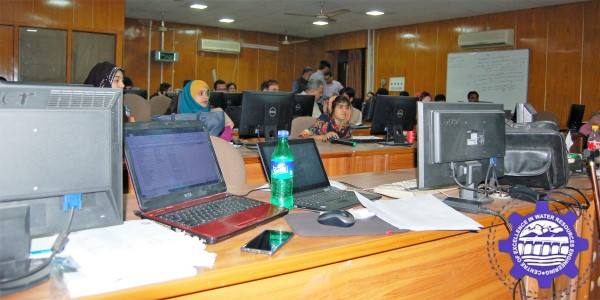 Video Conferencing Lab
To meet the international standard for education recently centre has developed the Video Conferencing Lab. This lab has fully equipped with latest PolyCom video conferencing equipment, Backup (UPS) and fully furnished. This lab is providing online lectures, recording lectures with real time presentation with latest document camera.